Joey Bishop (February 3, 1918 – October 17, 2007) was perhaps best remembered as being a member of the "Rat Pack" with Frank Sinatra, Peter Lawford, Dean Martin, and Sammy Davis Jr. He was the last survivor of that group of entertainers.
In 1941, Bishop married Sylvia Ruzga, who died in 1999. They had one son, Larry Bishop.
Bishop appeared on television as early as 1948 and was a frequent guest on television talk shows, game shows, and comedy shows. He is listed as #96 on Comedy Central's list of the 100 greatest standups of all time.
Source:http://en.wikipedia.org/wiki/Joey_Bishop
joey bishop images
Joey Bishop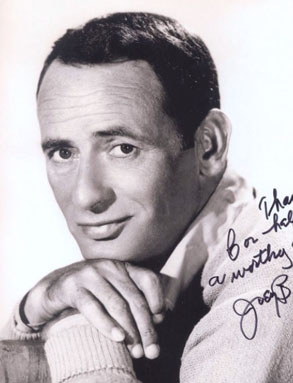 AKA Joseph Abraham Gottlieb
Born: 3-Feb-1918
Birthplace: Bronx, NY
Died: 17-Oct-2007
Location of death: Newport Beach, CA
Cause of death: Natural Causes

Gender: Male
Religion: Jewish
Race or Ethnicity: White
Sexual orientation: Straight
Occupation: Comic, Actor
Nationality: United States
Executive summary: Rat Pack member
Joey Bishop grew up in South Philadelphia, and started his comedy career doing vaudeville. Still known as Joey Gottlieb, he was briefly in a comedy group that called itself "The Bishop Trio", named for the group's driver. When the act broke up, Bishop kept the name for himself.
His sitcom, The Joey Bishop Show, ran from 1961-65, with Bishop playing a showbiz schmooze-type who (in the second season) became host of a TV talk show. When he hosted a talk show in real life, also called The Joey Bishop Show (1967-69), his sidekick and comic foil was the young Regis Philbin. As a running gag, Bishop routinely needled Philbin on the air, but the gags ended when Regis stalked off the set during a live broadcast, and stayed away for several days.
Bishop seems generally the least-remembered member of the Rat Pack, five cool stars and pals of the 1950s and 60s (the other four were Frank Sinatra, Dean Martin, Sammy Davis, Jr., and Peter Lawford). He appeared in the Rat Pack movies Oceans Eleven (1960) and Sergeants Three (1962). He said or did something that annoyed Sinatra (it's unclear exactly what) and was booted from the pack while their next film, (Robin and the Seven Hoods), was in pre-production.
Father: Jacob Gottlieb
Mother: Anna Gottlieb
Wife: Sylvia Ruzga (m. 1941, d. 1999)
Son: Larry Bishop

High School: (dropped out at age 16)